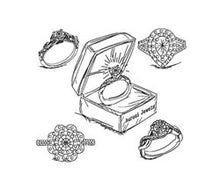 Choose 5 Ring Styles
We'll mail them to you for free. Keep them for up to five days.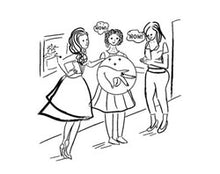 Try on at home
Try them on. Show them off. Make sure you find the perfect ring.
Return the Rings
Use the prepaid return label and drop off the rings at a UPS store or schedule a pick up. Done!
We get it: finding the perfect wedding band is a big decision! That's why we have a special program so you can try on wedding bands at home. You'll receive a wedding ring sample of each style you're interested in and will have up to five days to decide which one you love the most. Explore our selection of stunning handcrafted wedding bands and find the perfect ring today!
How Home Try-On Works
With Aurosi Jewels, you can try on wedding bands at home easily and for free in four steps:
Browse our unique wedding band selection.
Pick five of your favorites and add them to your cart. 
At checkout, select the home try-on option and you will be prompted to enter your credit card information.
Try the rings at home, show them to your friends, and choose the one you love!
Don't worry! We won't charge your card unless your wedding ring sample is not returned, and there is never an obligation to purchase a final ring. Your rings will arrive within a week or earlier, and you'll have up to five days to admire each handcrafted piece before sending them back.
The Benefits of At-Home Wedding Bands Trial
We strive to offer a wide range of wedding band and engagement ring styles to suit every taste. Maybe you have a dream wedding band in mind, or maybe you'd like to look at several styles to see which one feels right for you. Try on wedding bands at home to ensure you pick the perfect style. It's the perfect chance for brides-to-be to make sure their band pairs well with their engagement ring.
Shopping With Aurosi Jewels
At Aurosi Jewels we believe that shopping for wedding rings should be exciting and stress-free. If you have any questions about our at-home wedding bands trial program or need additional help, please contact us—we'll get back to you within 24 hours!
Frequently Asked Questions
Want to try on wedding bands at home but need more clarity? Keep scrolling to find answers to the most popular questions our customers ask us about our home try-on program!
What if the Wedding Ring Sample I Order Doesn't Fit?
The rings you'll receive through our home try-on program are replicas that come in a standard stock size of 6.5 that are made from non-precious metals and stones. They're only meant to help you see how the actual ring will look on you. But rest assured - your final ring will fit you like a glove!
What if I Lose or Damage the Wedding Ring Sample at Home?
In the event that a ring is lost or damaged during the home try-on, there will be a charge of $150 towards your credit card. So we urge you to take care of them as if they were your own.
When's the Best Time to Try On Wedding Bands at Home?
Three to four months prior to the wedding is always the best time to start trying on different rings. This will give you plenty of time to come to a decision and get the ring custom made to your satisfaction.
Can I Order More Than Five Rings With the Wedding Bands Trial Program?
The limit to try on wedding bands at home for free is set to five at the moment. You surely can order more than that but there's a $25 fee for any additional home try-ons. It's all part of our process to make your online ring shopping experience easier.