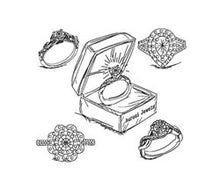 Choose 5 Ring Styles
We'll mail them to you for free. Keep them for up to five days.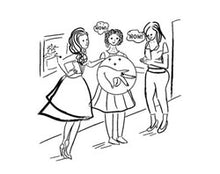 Try on at home
Try them on. Show them off. Make sure you find the perfect ring.
Return the Rings
Use the prepaid return label and drop off the rings at a UPS store or schedule a pick up. Done!
Engagement Ring Try On at Home
We pride ourselves on offering a wide range of stunningly handcrafted designer-quality engagement rings. Our styles offer something for every taste, including elegant solitaire rings, timeless vintage-inspired styles, halo rings, and more. Once you choose your perfect ring, we offer plenty of ways to tailor it to your specifications with metal choices, customizable options, as well as a choice between eco-friendly moissanite and GIA certified diamonds. 
Don't know which to pick? Find which one best represents you and your love with our easy 5-day home engagement try on program! Just choose 5 styles and we'll mail them to you for free. Try them on and admire their sparkle to see which one is your match made in heaven!
About Our Engagement Rings
All of our engagement rings are designed by our in-house team and made by highly skilled craftsmen in our Los Angeles factory.
Easily Try On Engagement Rings at Home
We've made ring try ons easy. Simply choose your five favorite rings and add them to your cart. At check-out, you'll be prompted to select the home try on option. We do ask for a credit card, but it will not be charged unless the engagement ring samples aren't returned. Your engagement rings will arrive in a week or less, and you'll have five whole days to admire your options and choose the one for you!
Engagement Ring Shopping Made Simple
Aurosi Jewels strives to provide an intimate, easy, and enjoyable ring shopping experience for every customer. That's why we created our flexible home try on program that offers more days to try on engagement rings at home than any other in the industry. 
Try on an engagement ring, minus the worries. Each sample engagement ring included in your customizable home try on set from Aurosi Jewels is meant to give you a sense of the look and feel of each style.
Need a wedding band? Our stunning wedding bands are also available for home try on — explore our selection today and find the perfect ring for your love!
Frequently Asked Questions
Almost ready to try on engagement rings at home? Keep reading to discover FAQs about our try on program!
Will my engagement ring samples come in my size?
No, the engagement rings in our try on program will all come to you in the standard, 6.5 stock size and will be made from alloy metal and simulated diamonds. We'll be happy to size your ring for your perfect fit once you find and choose your final engagement ring pick!
Do I have to purchase one of the rings I've tried on?
Absolutely not! When you try on engagement rings at home with Aurosi Jewels, you're under no obligation (or cost!) to buy any of the rings you sample. We know finding your perfect ring takes time. Our at-home try on program is designed to help give you an idea of which styles you may like. You can always continue exploring!
Can I try on more than five engagement rings?
Our try on program is currently designed to offer you five engagement rings or wedding bands. However, you can add more styles for an additional $25 fee. We want to make sure that you have the chance and time to determine which styles you like so you find your perfect ring so you feel comfortable with your decision.
Should I try on a wedding band or engagement ring before purchasing?
That's ultimately up to you! However, as a lifetime investment and piece of jewelry you'll be wearing every day, it's always a good idea to try on different styles to learn exactly what you like. Plus, the home try on program at Aurosi Jewels is fun, easy, and free!